OCEAN CREST ALLIANCE
ADVENTURE CENTER
The Benchmark in a series of "blue-economy properties" uniquely themed by the mission and/or sponsor. In this case, tying in the network of Brownie Marine Group, Global Sub Dive, Cubic Yacht, Mansion Yachts and related company clients, associates, and assets along with the vast network of OCA clients, associates and assets will set the stage for what is to come.
The (OCAAC) will offer rental accommodations for 14 guest that are experts or in training in marine based activities
The OCAAC Property will serve as a conservation, research, education scientific, technology and high adventure activity booking center.
Placement at the ocean side on the South West Coast of Long Island at "Cabbage Point" will serve dual purpose of command and control of offshore ops, and to the Southern Bahamas and offer a thematic "welcome" to new guests arriving from the airport or onboard the "Go America" Research Vessel.
OCA has the shell package in near ready status at an extraordinary price; and wish to be part of the larger Bahamas conservation plans. Following OCA, with a series of activity themed boutique resorts will complement the momentum of this initial kickstarter – a Network of Financially Sustainable MPA's.
The client base that will book these boutique resorts will range from highly disciplined researchers to corporate retreats to families and adventure seekers stomping through their bucket list
Creating a Sustainable Village
Each of the following disciplines will create content, traffic, and revenues on a path to reaching a sustainable "village."
The property will follow the existing renderings of the OCA Research and Education Center featuring
Category- 5 hurricane resistant, concrete based buildings
2 x 1400 sqft. 2bdr – Villas
3 – 900 sq ft 1bdr – Cottages
1 – 2000 sq ft Workshop / Lab Space featuring
○ Indoor and outdoor seawater systems, environmental control rooms, raceways and experimental tanks for mesocosm-level studies, including research and ocean acidification and climate change impacts to tropical reef organisms.
○ Molecular equipment to process and prepare samples for generation sequencing, genomics, metagenomics and transcriptomics
○ Microbial supplies for molecular and culturable applications within the marine environment.
○ Carbon chemistry laboratory for ocean acidification studies
Eco Friendly advanced technology design includes solar panels feeding Tesla® Powerpac; rainwater capture, and high-efficiency cooling systems.
2 – Docking Stations® for Mobile Container Lab
Conservationist, Researchers, Educators, Scientists, Technology enthusiasts and the Adventurer / Explorer in all of us will book rooms at the OCAAC; inclusive of farm fresh meals and complete access to the property infrastructure.
Land and Sea Activities
Dayboat Operators CDC (Career Development Center)
Health and Wellness
Food Security (Aquaponics)
Dive Sports CDC (Career Development Center)
Media
Exploration
Sunbmersible Underwater Drone CDC (Career Development Center)
Special Events/Guest Speakers (ie: Free Diving, Food Security/Aquaponics)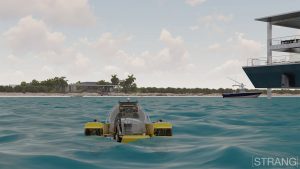 Our mission contributes to United Nations SDGs nº14 ('life below water'), nº2 ('achieve food security), nº7 ('sustainable energy'), nº8 ('decent work'),  nº5 ('gender equality')nº12 ('sustainable consumption and production'), and nº13 ('climate action') as a priority
  Land and Sea Activities
OCA offers SUP, Kite Surfing, Sea Bob and Foil Board experiences around Long Island were experienced and amateur outdoor enthusiasts can enjoy stimulating outings while honing on their skills.
Kayak and Yoga aficionados will find solace and never before experiences at Cabbage Point as well. These cross-over experiences are emerging activities that complement our core adrenaline theme and provide "balance" in the marketing arena to encourage the whole family to schedule a week.
Branding Sponsors: Adventure Sports USA
We have access to retail prices and sponsorships with this shop. BMG board member, Bob, is one of the owners.
Kite Surf tournaments and workshops
Freediving clinics with 17x World Champion and OCA Advisory Board Member William Trubridge. William resides on Long Island and host the World's Premier Free Dive tournament "Vertical Blue" at Deans Blue Hole on Long Island – the second deepest Blue Hole in The World
Sailing lessons
Day Boat Operators 
The recent emergence of mega Center Console vessels is creating a great opportunity for a destination resort with an industrial storage and maintenance complex capability.
Day boaters that own a $1m+ masterpiece can find accommodations and make sense of a Villa at OCAAC and will likely engage in the range of new activities.
They will be hooked when they know the worst part of the trip is a once a year ordeal crossing the gulfstream then island hoping south; and they realize they can leave their significant investment in the hands of trained staff in a purpose built facilities; then fly home in the comfort of private air service.
Integrating a CDC program specific to standardizing the maintenance, storage, and operations of these vessels will create Bahamian jobs, and is key to acquiring the clients trust in leaving their latest prize possession on Long Island.
Providing housing and meeting space for the clients' delivery or operational crew is an added value. The owners of these vessels are the most likely candidates for purchasing an annual membership to OCA Eshare® Program; a concept worth considering.
Marketing these capabilities will encourage the sales and marketing staff of the boat builders/dealers to broadcast OCAAC as a go to application of their pending purchase. The cool factor of "fly-in" boating and adventure will flow well. Adding a small fleet of highly capable yet practical rental boats with access to professional operators is a likely complement as well.
Two candidates to consider here: Invincible, IMAR Boats
Branding Sponsor Targets: Invincible, Yellowfin
Mansion Yacht – 84': Purpose built and anchored just near shore in the famous Long Island ''snakes'' the Mansion is offered to support your off-shore adventure, research, science projects providing lodging, F&B for OCA guests, cruising yachts, locals and special projects.
Health and Wellness 
The goal of the property is not only to accommodate a wider range of client dietary and fitness minimum requirements, but offering this as a "retreat" focal point. Within each family, business unit, group of friends lies a growing population of plant-based nutrition, yoga and general health conscious individuals.
This is an opportunity to highlight the OCAAC garden, solar farm, waste treatment plant and define an overarching theme of sustainability at every level.
Engaging the vegan enthusiasts with a juice bar, and yoga training before the afternoon activity session is sure to provide the perfect retreat for many big spending family units.
The property gardens provide a place to connect with something larger than oneself. A haven for the adventurer, for the wanderer. The endlessly passionate and curious. Arrive with an open heart and leave changed forever. This is a destination with meaning.
Massage / spa offered to guest in room or out in Nature.
Sponsor potential:
MorningStar Fisherman
OCAAC Divers Facility Enhancement
The most affluent adventurers on the planet seek out radical challenges and select the most capable teams and locations to accomplish as predictable outcome possible. They also demand the latest technology, skills and support equipment. OCAAC will become a premiere adventure center by following the recipe to attract the right clients. A few examples:
Portofino Divers,
Living Oceans,
Zero Gravity,
Big Blue Collective
GUE Affiliate Dive Centers
Nitrox Maker for advanced / most demanding recreational SCUBA divers & Oxygen and Helium with booster pump and mixed gas panel.
Re-compression Chamber
○ LP support compressor.
○ HP air / O2 bank.
(6) Recreational and Exploration DPV's (diver propulsion vehicles).
Brownie's "Sea LiOn" battery-powered recreational 3-diver to 35-ft dive system.
Freeman 38-ft long range dive support tender (run divers to Ragged Island chain and Columbus Bank – home to the largest known Nassau Grouper Spawning Aggregation on the planet – witness 7000 fish in the Aggregation)
Media
Filmmakers and broadcast TV entities will enjoy the cost-effective benefits of "fly-in" productions. The added cost and scheduling difficulties of ship-based media productions for exploration projects often limits the end product.
Reducing the ship transit cost by combining the science, exploration, and adventure into a fully capable "set" will gain the attention of Hollywood and abroad.
When not occupied by professional filmmakers, this facility will be used by local apprentices to create a constant flow of media from ongoing adventure activities, research and extreme exploration in the Long Island / Conception / Rum Cay and Southern Bahamas area. The apprentices will assist the professionals as another value-added service to reduce their travel footprint.
Branding Sponsors: Discovery Channel, Sharkweek, Sky News, AP Newswire, Cineflix Media, Figment Design
Exploration
Researchers seek out remote field stations. Long Island combined with drop cameras, ocean data acquisition stations, modern submersibles, and the modern OCA lab facility with an emphasis on teaching Bahamians and visitors will produce the workforce to fuel the transition of the Bahamas and abroad.
Branding Sponsors:
○ Project Baseline, Beneath the Waves, Global Underwater Explorers, Cubic Yacht, Mansion Yachts, Ocean Crest Alliance, Mote Marine Laboratories, Guy Harvey will be the first theme sponsors providing significant network recruiting capabilities.
○ The "build-it and they will come" concept applies here.
○ Each of these related entities has the ability to recruit, organize, and manage a healthy roster of notable guest that want access to an asset rich facility.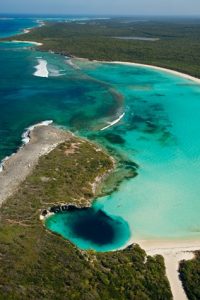 Science, Exploration Diving, Submersibles
A New Audience
Researchers from around the globe need efficient access to the deep oceans. Our location, facility and submersibles offer an unprecedented scale of observation and data collection.
Pairing researchers with broadcast media entities expands the audience impacted by the emerging knowledge acquired from the deep.
These same media efforts will expose Long Islands unique geological and environmental factors that make it such an incredible marine environment.
Explaining the anomaly of how "The Banks" and "Blue Holes" were formed will help highlight the magnitude of how truly exotic it is.
Science, Exploration Diving, Submersibles
A New Experience
Sponsor – Guest – Content Developers from around the globe will seek out a week or more around Long Island to participate in the shore based access to diverse ecosystem with the key equipment assets. While all forms of watersports, and diving will be the key focal point initially, the submersibles will fill in the gaps of understanding the interaction of the community of ecosystems throughout the water column.
Submersibles, researchers, and cameras with story-tellers venturing into the deep will characterize Long Island as a holy-grail of exploration diving sites; shallow to very deep, to our amazing Blue Holes.
High-end vacationers naturally consider the Bahamas for white sand and blue water experiences.
Establishing Long Island as a premier destination with extreme exploration experiences with a purpose is a plan that will create its own momentum.
 Submersible / Underwater Drone CDC 
(Career Development Center)
There are over 100 privately owned submersibles in the yacht / cruise ship market today.
Creating a submersible piloting / crew training program is now becoming an obvious enterprise opportunity
On the very near horizon is the emerging market of underwater drones (UUAV) and compact high performance ROV systems. Both require significant team experience and "stick time" to master.
Accumulating adequate stick time from a ship-based facility is very expensive and to date proved elusive. Access to deep water, low traffic and protected LAR (launch and retrieval) areas is yet another benefit of Long Island.
Students in the CDC will book rooms, meals, etc., and act as support personal during their apprenticeship periods (2-8 weeks).
● In addition to the traditional crew training opportunity, financially capable individuals want to learn to pilot subs before making a purchasing decision, many already flying their own aircraft or running their own vessels.
Dive Sports CDC (Career Development Center) 
With the help of Global Sub Dive and Project Baseline, we will keep a deep focus on science, exploration, ocean conservation, and awareness
In partnerships with GSD/PB and their established relationships, we plan to create a boutique adventure center with high standards and service unparalleled in the diving industry by helping to increase revenue for the OCA Adventure Center
Brownie's new patented battery powered tankless dive systems hinges upon the creation of a fleet operators. In order to reach scale, we plan to partner with GSD/PB to create a CDC (Career Development Center).
Creating dive guides, instructors, science data collectors, exploration divers, free-dive champions and tournament spearfishermen from the Bahamian youth and those abroad will provide adequate staffing for and the Exploration Center and other affiliates around the globe that adopt our plans/products.
Branding Sponsors:
○ PADI, SSI, Scubapro/Johnson Outdoors, Halcyon, Fourth Element, William Truebridge, Vertical Blue
Global SubDive Equipment
(2) Triton 1000/2 Submersibles.
Remotely Operated Vehicles (ROVs):
○ Falcon DR x 2.
■ Lightweight, measures just over 1m long.
■ Rated to 1000m.
○ DeepTrekker Revolution
■ Lightweight and portable.
■ Rated to 305m.
■ Inherent 4K camera.
■ Can operate from any vessel including our tenders.
○ Contain-A-Lars (Launch & Retrieval System).
■ Can operate from Seth McCall Search Star or GO America.
■ Has its own overboarding system.
(3) 20-ft container workshops:
○ Submersible Support.
○ Convertible Lab-Office.
○ Exploration Diver Support Equipment.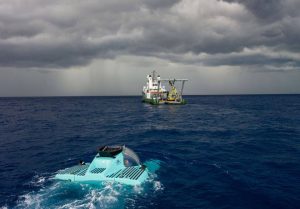 Acquisition Goals: Instruments
Aeromapper Talon Instrument / Payload: To assist with the monitoring of the oceans and Illegal Unreported Unregulated (IUU) fishing activities – a UN Sustainable Development Goal #14, OCA will deploy drones, such as the Aeromapper Talon flight technology. The Aeromapper Talon is a fixed wing commercial mapping small drone. This sUAS turnkey system is ideal for scouting, monitoring, mapping and surveying thanks to its swappable payloads such as centimeter accurate dual frequency PPK system, thermal, high resolution RGB cameras (24 or 42 Mp), or multispectral sensors. Its 2hr of endurance and high wind resistance allows operations in broad areas thanks to its parachute system and simplicity of hand launches.
Long Island, International Airport:
Now Under Construction
Design Completed – January 2020
Survey of Land Completed – September 2020
Tenders Being Accepted – December 2020
Construction Start Date – March 2021
Construction Completion and International Airport to Open – March 2022
Long Island: The Perfect Location
Long Island — The proposed 257,000 acre Long Island Marine Management Area (LIMMA) contains a rich biodiversity of habitat, ranging from mangroves and sea grasses, blue holes to coral reefs and deep water sites; habitat that is critical to the life cycle of the biodiversity of the Long Island fisheries and associated bird and marine species.
CHARACTERIZING LONG ISLAND AS A MISSION SPECIFIC DESTINATION FOR THE WORLD'S MOST ADVENTUROUS TRAVELERS, RESEARCHERS AND EXPLORERS WILL MAXIMIZE THE POTENTIAL OF THE NATURAL ASSETS AND DEVELOPED INFRASTRUCTURE.
"The Long Island Hope Spot offers real hope for enhanced marine conservation in the Bahamas. Protecting the area would not only benefit wildlife in the sea, but also secure a vibrant part of Bahamian national heritage for the future. Now, as never before, we have the chance to get it right." – Dr. Sylvia Earle, Mission Blue Founder
For greater details about the OCA Adventure Center tax deductible E-Share Program and how you and your family may become involved in this significant conservation program please contact:
Captain Joseph Ierna Jr: