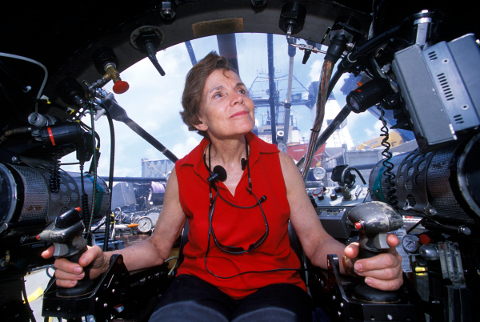 Dr. Sylvia A. Earle
National Geographic Society Explorer in Residence Dr. Sylvia A. Earle, called Her Deepness by the New Yorker and the New York Times, Living Legend by the Library of Congress, and first Hero for the Planet by Time Magazine, is an oceanographer, explorer, author and lecturer with experience as a field research scientist, government official, and director for corporate and non-profit organizations including the Kerr McGee Corporation, Dresser Industries, Oryx Energy, the Aspen Institute, the Conservation Fund, American Rivers, Mote Marine Laboratory, Duke University Marine Laboratory, Rutgers Institute for Marine Science, the Woods Hole Oceanographic Institution, National Marine Sanctuary Foundation, and Ocean Futures.
Formerly Chief Scientist of NOAA, Dr. Earle is the Founder of Deep Ocean Exploration and Research, Inc. (DOER), Founder of the Sylvia Earle Alliance (S.E.A.) / Mission Blue, Chair of the Advisory Council of the Harte Research Institute, inspiration for the ocean in Google Earth, leader of the NGS Sustainable Seas Expeditions, and the subject of the 2014 Netflix film, Mission Blue. She has a B.S. degree from Florida State University, M.S. and PhD. from Duke University, 27 honorary degrees and has authored more than 200 scientific, technical and popular publications including 13 books (most recently Blue Hope in 2014), lectured in more than 90 countries, and appeared in hundreds of radio and television productions.
She has led more than 100 expeditions and logged more than 7,000 hours underwater including leading the first team of women aquanauts during the Tektite Project in 1970, participating in ten saturation dives, most recently in July 2012, and setting a record for solo diving in 1,000 meters depth. Her research concerns marine ecosystems with special reference to exploration, conservation and the development and use of new technologies for access and effective operations in the deep sea and other remote environments.
Her special focus is on developing a global network of areas in the Ocean, "Hope Spots," to safeguard the living systems that provide the underpinnings of global processes, from maintaining biodiversity and yielding basic life support services to providing stability and resiliency in response to accelerating climate change.
Her more than 100 national and international honors include the 2013 National Geographic Hubbard Medal, 2011 Royal Geographical Society Patron's Medal, 2011 Medal of Honor from the Dominican Republic, 2009 TED Prize, Netherlands Order of the Golden Ark, Australia's International Banksia Award, Italy's Artiglio Award, the International Seakeepers Award, the International Women's Forum, the National Women's Hall of Fame, UNEP 2014 Champion of the Earth, 2014 Glamour Woman of the Year, Academy of Achievement, Los Angeles Times Woman of the Year, UN Global 500, and medals from the Explorers Club, the Philadelphia Academy of Sciences, Lindbergh Foundation, National Wildlife Federation, Sigma Xi, Barnard College, and the Society of Women Geographers.
In 2009 She was awarded the TED Prize for her proposal to establish a global network of Marine Protected Areas (MPA's),  Dr. Earle is an inspiration to Ocean Crest Alliance and also serves as a principal adviser to our campaign.
In her TED presentation on Mission Blue, she said "I wish you would use all means at your disposal — films! expeditions! the web! more! — to ignite public support for a global network of Marine Protected Areas, "Hope Spots" large enough to save and restore the ocean, the blue heart of the planet; what happens to the ocean over the next ten years will determine its fate for the next 10,000 years,"
Dr. Guy Harvey
Guy Harvey is a unique blend of artist, scientist, diver, angler, conservationist and explorer, fiercely devoted to his family and his love of the sea. Growing up in Jamaica, Guy spent many hours fishing and diving with his father along the Island's south coast. He was obsessed with marine life and began drawing pictures of the many different fish he observed.
From his early inspirations, Guy's natural gift to recreate the underwater realm has propelled him from Professor of Marine Biology to a Wildlife Artist and Photographer. Guy initially opted for a scientific education, earning high honors in Marine Biology at Aberdeen University in Scotland in 1977. He continued his formal training at the University of West Indies, where he obtained a Doctorate in Fisheries Management.
Guy began to travel the world to gain more knowledge of the behavior and activities of marine wildlife. He became an avid scuba diver and skilled underwater photographer. He pioneered a technique of diving and photographing free-swimming billfish. His personal observations made during these diving expeditions have better enabled him to capture the detail in his paintings that contributes to the popularity of his work.
As an ardent conservationist, Guy has consistently supported "catch and release" fishing ethics for game fish around the world. He works closely with many conservation organizations to help protect global fishery resources. In 1986, he was selected as Jamaica's representative to the International Game Fish Association and in 1992 was appointed as a Trustee. Guy's support of the Pompano Beach Fishing Rodeo and its artificial reef program was highlighted by his sponsorship in 1997 of the sinking of a retired 185-foot ship to create the artificial "Guy Harvey Reef". In 1998, Guy was voted the IGFA's first ever "Lifetime Achievement Award" from the World Fishing Awards Committee.
October 2009, Guy Harvey was one of five IGFA Hall of Fame Honorees who was selected for his significant contributions through angling achievements, literature, the arts, science, education, communication and administration of fishery resources.
In 1999, the Nova Southeastern University Oceanographic Center and Guy Harvey collaborated to create the Guy Harvey Research Institute, an organization dedicated to solution-oriented basic and applied scientific research needed for effective conservation of the world's wild fishes. More recently, in early 2008 Guy started the Guy Harvey Ocean Foundation, a non-profit organization dedicated to funding leading scientists as they develop new strategies for sensible fisheries management and educators, who will create novel instructional programs to stimulate future scientists and new stewards of the marine environment.
Kris and Jeannie Newman
Kris has been a PADI scuba instructor for nearly 25 years and diving much longer than that. Jeannie has been a professional travel journalist for much longer than that as well, specializing in dive travel with two books to her credit and countless magazine assignments all over the world.  Kris was the Underwater Department Head for Warner Bros. and has films such as "Sphere", "Aliens of the Deep", Penn & Tellers underwater magic show, TV's Nash Bridges, and numerous commercials to his credit.  Kris has worked for many years, as  he was needed, for James Cameron and Vince Pace (CameronPace Group) in 3D.  Kris trained cast members, such as Sharon Stone, Sam Jackson, Queen Latifa, Dustin Hoffman and others in the underwater environment, not to mention 68 crew members as well.  Kris and Jeannie have lived, full time in the Bahamas for the past ten years and know the dive sites off of Long Island Bahamas intimately!
William Trubridge
William learnt to swim at the age of 2, and could freedive to 15m at 8 years old, but didn't begin serious training for the sport until 2003. Initially he studied in Italy under Umberto Pelizzari and other members of the Italian Apnea Academy, helping to found Apnea Academy International with English translations of the texts.
In 2005 William was the first freediver to dive at Dean's Blue Hole, now recognized as the world's premier freediving venue, and site of the annual Vertical Blue event. There, in April 2007, he broke his first world record in the discipline of CNF (Constant Weight No Fins), diving to 81m.​
Since then he has broken this record multiple times, and in 2010 he became the first human to descend to 100m (330 feet) during Project Hector, an event aimed at bringing awareness to the plight of New Zealand's critically endangered Hector's and Maui's Dolphins.
In July 2016 he furthered this record to 102m (334 feet) as part of the Steinlager Born to Defy project, broadcast live to NZ television.
William has also broken the world record multiple times in the Free Immersion discipline, most recently with 124m (406 feet) at Vertical Blue, in May 2016.
In 2019 he became the first person to complete an 'underwater crossing' of a major channel, swimming only underwater over the course of 934 breath holds to cross the Cook Strait between New Zealand's
North and South Islands in 9 hours 15 minutes.