December 21st, 2015
Architect Kavon Knowles completes the OCA Cabbage Point Research & Education Facility renderings. The first structure to be built, the "Kitchen Kottage", followed by the workshop and farm areas.
"Kitchen Kottage"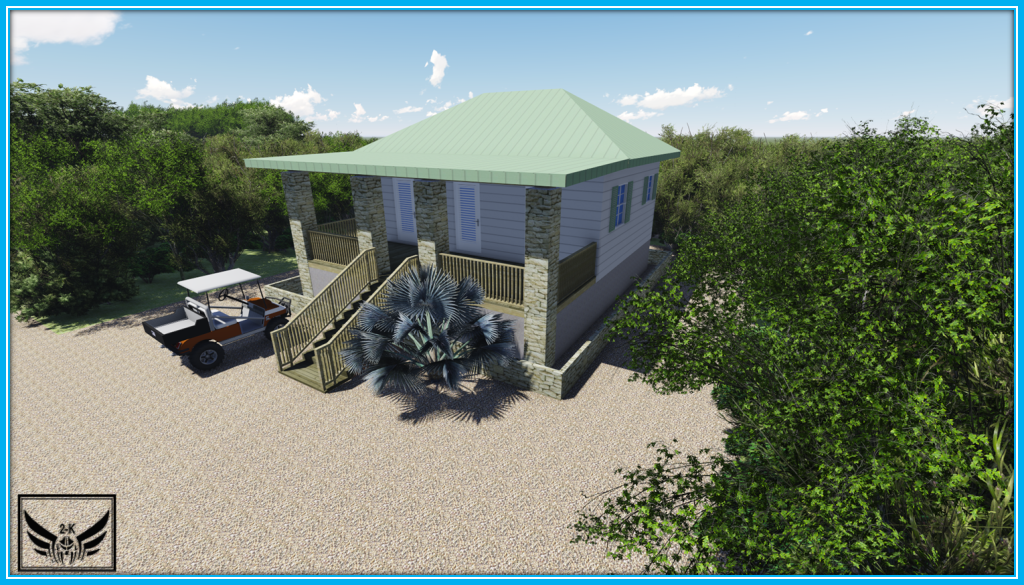 Studio Cottage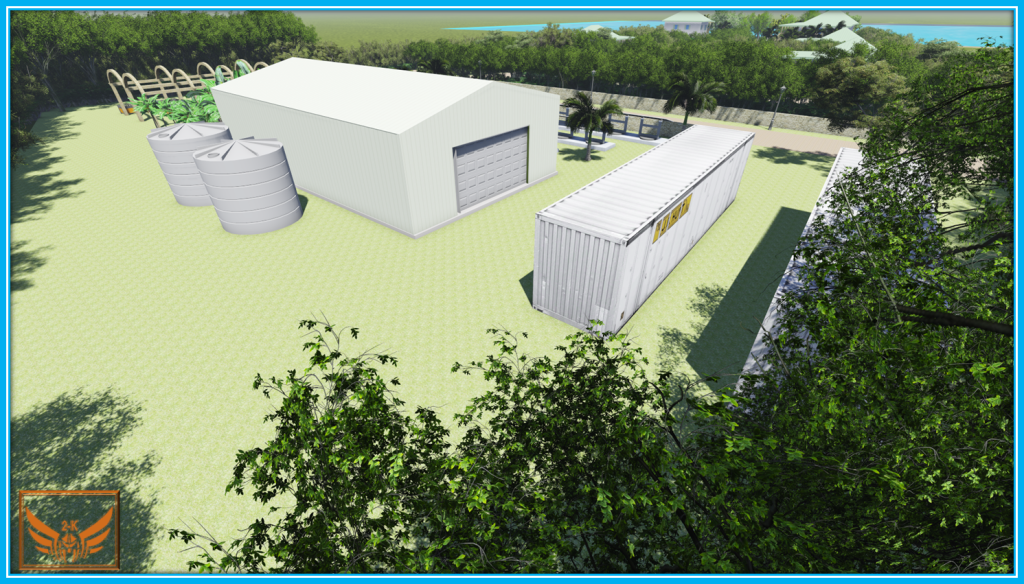 Workshop, storage, Lab "Docking Stations", Food Production.
October 28th, 2015
OCA story "When Hurricane Joaquin Called" written by Joseph Ierna Jr., featured by Ocean Unite the Oceans voice of the organization Virgin Unite in the Huffington Post Green. Http://huffingtonpost.com/ocean-unite/when-hurricane-joaquin-called-ca_b_8409146.html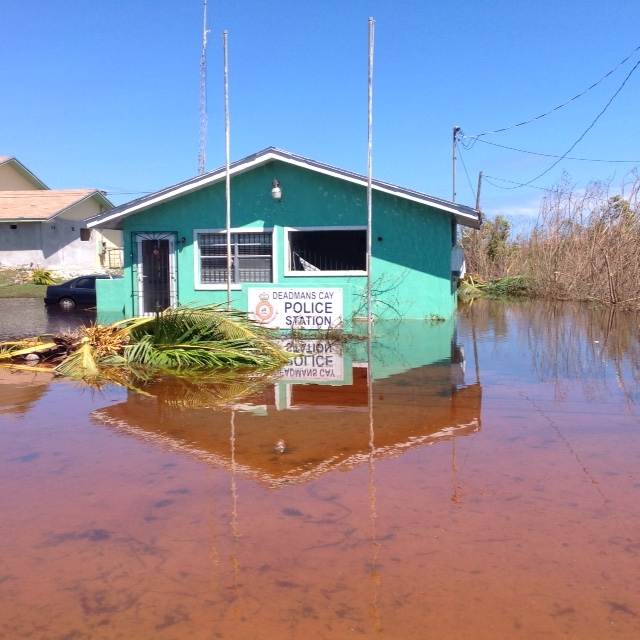 Police Department, Deadmans Cay, Long Island Bahamas.
Fishing vessel Capt. Ryan, completely destroyed by Hurricane Joaquin 18′ tidal surge and 150+ miles an hour winds.
October 1st, 2015
Hurricane Joaquin delivers major destruction to Long Island Bahamas includiing the OCA Cabbage Point Facility property.
September 15th, 2015
September 15th, 2015, OCA begins excavation work on OCA Research and Education Facility property, Cabbage Point, Long Island Bahamas.
The lush coppice vegetation featuring old growth Lignum Vitae trees throughout the property and soft white sand beaches: Photo credits: Joseph Ierna Jr
September 10th, 2015
OCA partners with Team Frapper Maria and Bob Hickerson and the BBC film crew to do a segment for the upcoming BBC pilot "Fishing Impossible". OCA and Team Frapper will demonstrat a new technique in catching the invasive Lionfish through unique trap design, leading up to revelutionary design of a pattern recognition device that may be outfitted on new and old fish traps around the globe, eliminating the ever present ills of bycatch………stay tuned for this as we develop this in the coming years.
Morning at the docks to prepare the vessel. Photo credit: Joseph Ierna Jr
August 15th, 2015
OCA contracts Bahamian Architect Designer Kavon Knowles (2K) to produce the OCA Facility Cabbage Point Layout Renderings. Kavon is a young local Long Islander that works for the Ministry of Public Works.
OCA workshop, Lab "docking stations". solar field and food production areas.
About the project the designer says; "As a product of the Long Island Communities, I am grateful to witness and become a part of such an Organisation. I am happy to know that the most vital source of lively hood for many of the islanders are being preserved. I have once said that if this continues, the marine life of which I once enjoyed maybe non-existent to future generations." The economy with this small island community has been depleted as a result of natural disasters and lack of investments. The vision of OCA and its development can help change such devastation and help at least to trigger a flicker of hope for the place I call home. They say Home is where the Heart is; Long Island is my home. The place where my navel string is buried and the root of my existence and those of my ancestors long before me. Marine life is a very integral part of life here and should be protected. OCA is set out to protect our fishing heritage and way of life while providing and educating those in our communities, It's a way of giving back to our communities. Knowledge is power, who knows the many lives that may be inspired and affected. We may move from grooming just young fishermen to marine biologists. Our very own products, fruits from the soil we call home. — Thank you OCA for making a Difference, an Alliance for the Future." – Kavon Knowles /  K2 Design
August 4th, 2015
Bahamas Youth Network and Dr. Bob Sluka on Long Island trying to get Christians more involved in Marine Conservation
Nicola and Joseph Ierna, Directors of OCA enjoyed a nice evening last night with the Bahamas Youth Network – Long Island Mission 2015. The week long mission is organized by Bob Sluka based in London and locally by Oasis Directors Jan and Gabe Swing. BYN is part of a Christian organisation, leading global marine conservation programs, and among other things, trying to get Christians in particular to get involved in marine conservation.
OCA's shared information and spoke about many topics with the lively group about the developing of the Long Island Marine Management Area (LIMMA) MPA, building a Global Network of Marine Protected Areas, the OCA research and education facility, our unique Eshare programs, renewable energies and the role each one of us can play in our global efforts to reverse the decline of our oceans and planet, leading to greater health and prosperity for all humans and the nature that surrounds us.
http://www.oceancrestalliance.org/mpacampaigns/
http://www.oceancrestalliance.org/bahamas-mpa/
Our hope with the gathering is to engage this local youth group with the Christian obligation to take care of the environment and in the Bahamas to get involved in long term solutions to our planets many issues.
Photo Credit: Joseph Ierna Jr. Bahamas Youth Network and OCA — LOOKIN GOOD!!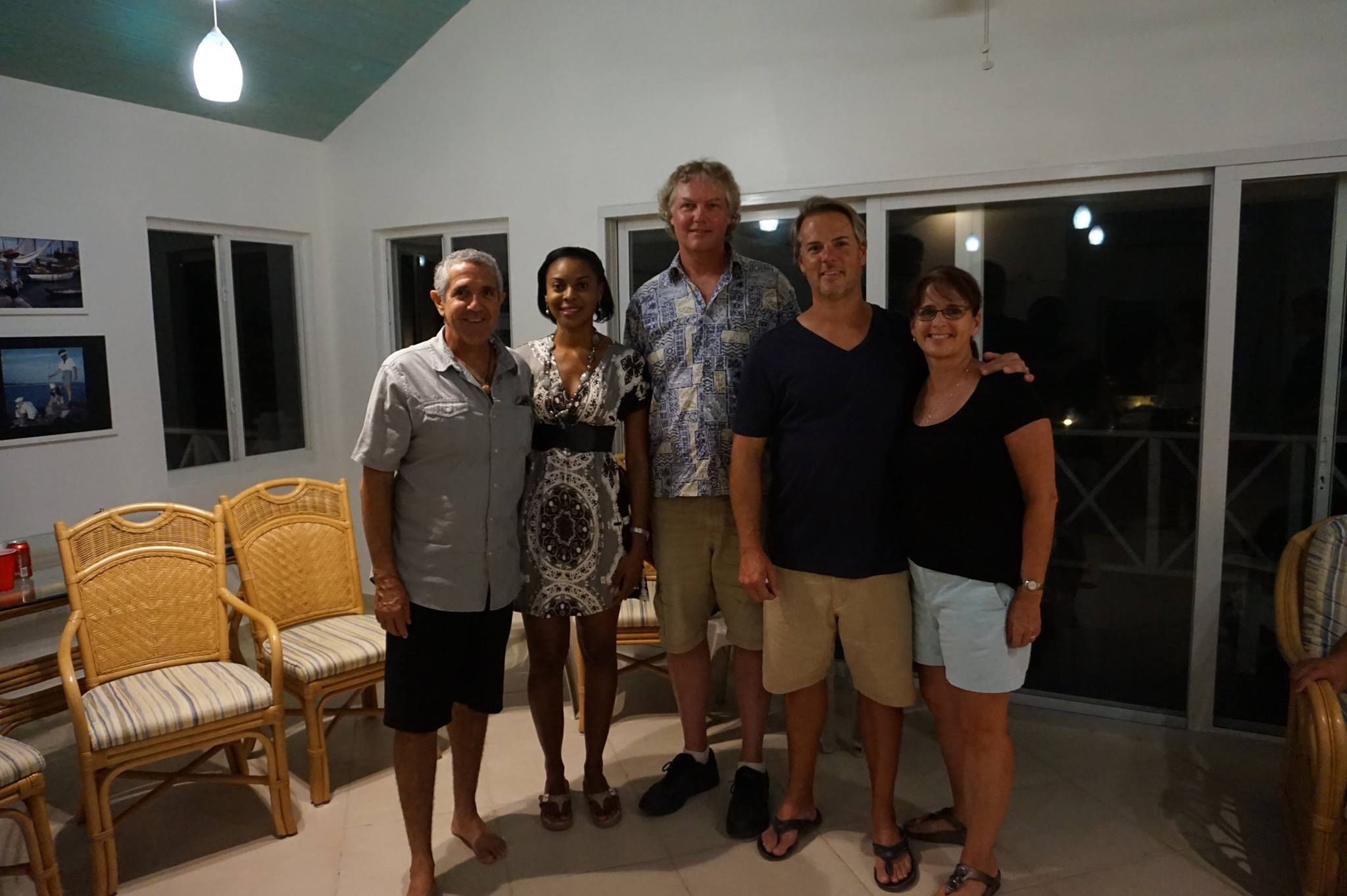 Photo Credit: Joseph Ierna Jr. – Joseph Ierna Jr. Nicola Ierna, Dr. Bob Sluka, Gabe Swing, Jan Swing
April 25, 2015
The Kitchens announced the funding of the first OCA Research Cottage aptly named the "Kitchen Kottage".
Jay Kitchen and Dr. Kim Kitchen were recently on Long Island for some relaxation and fun in the Bahamas Family Islands. But the visit was not all for R&R. Jay the past president of the prominent telecommunications corporation PCIA, and Kim, owner of the state-of-the-art dental office in Alexandria, Virginia, Old Town Smiles are no strangers to the islands or the conservation efforts of Ocean Crest Alliance. Kim is still very active in her practice and Jay retired some years back due to his afflictions from Parkinson. Being staunch supporters of ocean conservation efforts, this donation by the Kitchens shows their continued support of OCA and towards reversing the decline of our oceans health. On this visit, made with friends Bob Mann and Alexandra Davis, both also form Alexandria, the Kitchens announced the funding of the first OCA Research Cottage aptly named the "Kitchen Kottage". The Kitchen Kottage will become a significant beginning step of the OCA Facility and the OCA E-share program that will be made available to the many users of the proposed 215,000 acre Long Island Marine Management Area. "We are excited of this milestone for OCA and look forward to giving back to the Bahamas community and the great research and science programs of OCA", say Kim and Jay.
Stay tuned as we build the "Kitchen Kottage" and the OCA Facility. This "off the grid" research facility is part of the OCA model of sustainable MPA operations recently profiled in MPAnews. 
Thank you Kim and Jay — we love you both, and so do our Oceans
Photo Credit: Joseph Ierna Jr. –Kim and Jay Kitchen
March 18, 2015
OCA parnters with Blue Marble Exploration
http://www.bluemarbleexploration.com
Human Exploration of Extreem Environments
In 2015……3 explorers will embark on a unique dive. 1st descent of a manned submersible, 663 feet down, 202 meters……into the deepest underwater cavern in the world; Dean's Blue Hole, Long Island Bahamas. Ocean CREST Alliance, as an expedition partner, is honored to join the team pushing the limits of technology, science, and human endurance to raise awareness of Planet Earth – our "Blue Marble"!
March 17, 2015
OCA partners with THE TERRAMAR PROJECT
http://www.theterramarproject.org
A PLATFORM FOR CITIZENSHIP AND TRANSFORMATION OF THE HIGH SEAS
71% of the planet is Ocean and 64% – the high seas – lies outside of any single country's jurisdiction. The high seas are the most ignored, least explored, and largest unregulated part of the planet. The TerraMar Project is creating a global community to give a "voice" to the high seas. On March 17th, 2015 Ocean CREST Alliance has become an official partner of The TerraMar Project, joining together to let the world know that we love the ocean!
February 25, 2015
"MOSF and OCA partner on a Sea Turtle Program"
In collaboration with Ocean Crest Alliance (OCA), the Marine & Oceanic Sustainability Foundation (MOSF) http://www.mosfoundation.org is proposing the design and establishment of a full-time sea turtle program on Long Island in the Bahamas. MOSF designs and develops geotourism and citizen science programs that sustain or enhance the geographic well being of a destination, emphasize the culture and history of the area, and benefit both visitors and residents alike.
"Ocean Crest Alliance, with Joe Ierna at the helm, is a non-profit organization that is developing innovative ways to establish and manage much needed MPAs," stated Jennifer Pitzer, MOSF Managing Director. "Like MOSF, OCA has a very strong focus on stakeholder engagement, the importance of financially and environmentally sustainable programs, and the use of green technology to achieve our goals."
"We have desgned and developed a unique MPA Facility and E-Share program that provides a vehicle for MPAs to be financially sustainable while operating sustainably within Nature and the Community that it serves." said Joe Ierna, Ocean Crest Alliance Director.
We look forward to a GREAT relationship with MOSF!
http://www.prlog.org/12431364-marine-oceanic-sustainability-foundation-announces-partnership-with-ocean-crest-alliance.html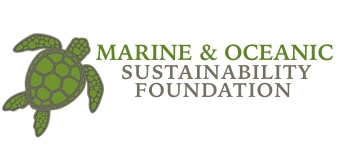 February 17th , 2015
"MPAnews"
OCA director Joseph Ierna Jr agrees to write a feature essay about OCA efforts in the Bahamas about the proposed 215,000 acre Long Island Marine Management Area (LIMMA). The essay's theme to be overall MPA sustainability: how to make MPA's sustainable financially, ecologically, and socially! Look for the artilcle to be published in the April issue of Mpnews newsletter. Says John Davis the Editor-chief of MPAnews in his conversation with OCA 's Joseph Ierna Jr; "Fresh Perspective", "Creating New Approaches", "Very Cool". MARE http://wwwmarineaffairs.org/programs.html publishes MPA News http://www.mpanews.org, the global newsletter on planning and management of MPAs, with an audience of 5000 of our peers across 120 countries!

February 2nd , 2015
"Re-con Mission"
On February 2, 2015, a group of elite professionals, in 2 small craft, made a 180 mile round trip to a remote part of the Bahamas Islands, to dive and document a Nassau Grouper Spawning Aggregation! The expedition was made possible by a generous grant from the Guy Harvey Ocean Foundation http://www.guyharveyoceanfoundation.org  — Guys statement about the expedition to the team: "We are embarking on an historic fish conservation effort and we are all glad to help. This is just the beginning. G"
The team assembled by Ocean CREST Alliance was like a mini united nations, hailing from Bahamas, US, Turkey, French, Italy and British descent and comprised of a world champion freediver, world renowned cinematographer, directors of 2 Bahamas ngo's and a "whole bunch" of Local Knowledge! Again joing the group for the thrid month this season was Colton Cartwright, the young commercial Fisherman from Long Island
Our mission was very tough, but completed as intended, with these results we are look forward to next years Bahamas Nassau Grouper Expeditions!!
Photo credit: Peter Zuccarini
January 3rd -6th , 2015
"Mystery SPAG"
As the January full moon drew close, it was time for another high seas adventure, though this would be somewhat different, than our December expedition. We were looking to document a "secret" SPAG rumored "by fisherman" to be the largest in the world.
To help make our research expeditions possible, I contacted our friend Wayne Sullivan, owner of the 100-foot yacht, Glen Ellen. With 50 years of cruising experience and many years of working with Guy Harvey on the Cayman Island Nassau Grouper SPAG's Sullivan is known simply as "the Admiral." Dr. Craig Dahlgren, who has spent more than a decade studying SPAG sites in the Bahamas, led the scientific efforts with help from Casurania Lambert McKinney and Mallory Rapheal of BREEF, friends of the Admiral, T- Bird and Muley, Bahamian Wolcott Miller, Captain Jimmy Schluten and, most important, head chef Lacy Fogg. Also joining the talented group was world champion free diver William Trubridge, a resident of Long Island and an Ocean CREST Alliance adviser.
The date was January 5, 2015. The time: 0930 hrs. Our dive team documented what may be the largest known Nassau grouper spawning aggregation remaining on the planet.
Photo credit: Wayne Sullivan Here's a group picture of the modern day explorers on board the M/V Glenn Ellen offshore Long Island Bahamas.
Photo credit: Joseph Ierna Jr / OCA Read the complete story of our December and January, Bahamas Nassau Grouper Expeditions in the upcoming Spring Issue of Guy Harvey Magazine!   http://www.guyharveymagazine.com