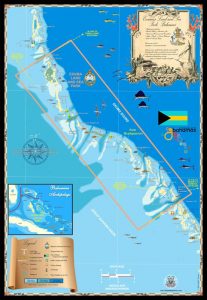 From January 1st, 2018 through May 15th, 2020 OCA Founders Nicola and Captain Joseph Ierna Jr. completed a 2+ year contract as the Administrator and Administrative Assistant of the Exuma Cays Land and Sea Park, one of the oldest marine parks in the world. This was a great opportunity to put to the test their ideas and methods of how to operate financially sustainable Marine Protected Areas. Below are three of the many articles and letters about this venture and the success they achieved.
January 1st, 2018 – The Bahamas Weekly
By Lynn Gape 
The Bahamas National Trust is pleased to announce its recent hire of the team of Captain Joseph Ierna Jr. and Nicola Ierna as the Park Administrator and part time Administrative assistant at the Exuma Cays Land and Sea Park. Within this role, Captain Ierna will be responsible for overall supervision and oversight of all activities that occur in the Exuma Cays Land and Sea Park (ECLSP). Nicola will provide support for the office manager and park administrator.
"We believe in the work of the BNT and the importance of the ECLSP as The Bahamas' first Marine No-take area. The BNT and partners nationwide are working to create and implement a well-managed marine protected area system. Ierna said. "Both Nicola and I believe that the ECLSP can demonstrate how sustainable finance mechanisms can support the protection of the Bahamas natural resources and we are excited to participate in elevating the management of the ECLSP so that it becomes a model not just for The Bahamas but for the region."
Captain Ierna comes to the BNT with extensive knowledge of shipbuilding and design having worked in the Yacht Industry for 39 years. He is a committed marine conservationist having founded Ocean Crest Alliance (OCA), a non-profit organization working in marine and land conservation in the Bahamas and Florida. Nicola Ierna, worked in the banking industry (Scotiabank, Long Island) for 17 years and is also a Director of OCA.
"The BNT is very excited to have this well qualified and dynamic team at the helm of the ECLSP.  The park is one of our most highly visited parks and we are in the process of upgrading the park facilities, implementing new technology to help with enforcement and initiating some exciting new projects for the park.  We feel that Joe and Nicola bring an exciting new energy and important skills to assist in making this national park in The Bahamas a true model for marine parks across the region." Commented Eric Carey, BNT Executive Director.
The BNT is a non-governmental, non-profit, membership organization working to protect Bahamian natural resources by building a network of national parks and promoting environmental stewardship. The Exuma Cays Land and Sea Park was the first National Park in The Bahamas and was the first designated as the first "No Take" Marine Reserve in the wider Caribbean in 1986.
http://www.thebahamasweekly.com/publish/community/BNT_Welcomes_new_ECLSP_Management_Team_printer.shtml
July 31, 2018 – MPANews
By Captain Joseph Ierna Jr.
The business of marine protected areas is as diverse and complex as the environment we are managing. Through word association, here is a small glimpse of what we may encounter on a daily basis in one of our national parks:
Staffing, budgets, maintenance logs, patrol logs, standard operating procedures, ethics, conservation, research, education, science, technology, tourists, locals, private islands, big boats, little boats, moorings, anchorage, weather, currents, patrol, drones, CCTV, internet, satellite, vessels, groundings, firefighting, missing persons, illegal activities, poaching, theft, drugs, invasive species eradication, funding, government, grants, philanthropy, filmmakers, MOUs, generators, watermakers, renewable energy, waste management, pollution, plastics, and much more!
Recently I was afforded the great honor to serve as the Administrator of the 455-km2 Exuma Cays Land & Sea Park (ECLSP) here in The Bahamas. This national park, designated in 1959 and a no-take since 1986, is one of the oldest marine parks in the world. It is managed by the Bahamas National Trust (BNT), an NGO that operates The Bahamas' entire 8900-km2 national parks system.
Prior to my position with the ECLSP, I led an effort – still underway – to plan a financially sustainable MPA from the ground up: the Long Island Marine Management Area, also in The Bahamas. The concept is that MPAs should be run more like the private sector, namely by serving customers' needs – as well as the ecosystem's – and generating revenue in the process. [Editor's note: MPA News profiled this effort in a 2015 article.]
Similar ideas can be applied at a long-established MPA like the ECLSP, too. That is what we are looking to do. The ECLSP costs roughly US $750,000 to operate annually but currently runs a $300,000 deficit. And needed re-development of the park's infrastructure – including new buildings and lab space, repairs to existing structures, additional vehicles and vessels, and new energy and communications systems – will cost an additional $4.6 million. New revenue is necessary.
Aligning parks and the private sector
So how can we generate the new revenue? For that matter, how can protected areas worldwide – which all too often have inadequate funding – generate new, self-sustaining revenue streams?
One viable path is for protected areas to align with private sector projects. Through such partnerships, revenue from private sector partners is fed into protected areas' conservation efforts. In the case of the ECLSP, for example, natural partners could include the yachting industry, filmmakers, and scientists willing to pay a fee to work in a healthy ecosystem with high-quality lodging and lab space. The park already generates fees from mooring, anchorages, and camping but can do more. We need to get creative about identifying these partnership opportunities and bringing the protected areas and private sector communities together.
In recent years, the ECLSP has explored many ideas about public-private partnerships. But concerns about the perception of putting business interests ahead of natural resource protection have led this to remain a largely untapped funding mechanism for the park.
However, in the past five months of operations, as Park Administrator, I have led negotiations with private sector players and we are now advancing these ideas into commitments of possible investment actions. Such partnerships represent advantages for both sides. The private sector partner would receive access to operate in one of the most beautiful places in the world – with strong accountability measures built in. The park would gain funding needed to purchase equipment, strengthen infrastructure, and build staff and operations capacity.
Challenging the private and public sectors to fund parks
We have an opportunity before us to make a difference for future generations. It is time to take the next step and challenge private and public sectors to direct funding resources to operate our protected areas. We need to identify the economic incentives. I am encouraged here at the ECLSP: we are on the forefront of setting standards in operating financially sustainable national parks, including eventually across The Bahamas' national system of 32 sites. This is the future for protected areas.
https://mpanews.openchannels.org/news/mpa-news/perspective-new-management-concepts-one-worlds-oldest-mpas-building-financial
November 28, 2018 – PASSAGEMAKER – The World's 
Protecting the Exuma Cays – New management at one of the oldest marine protected areas
By Captain Joseph Ierna 
The success of the ECLSP in protecting populations of key species and preserving the health of coral reef ecosystems is a testament to the foresight of its founders, who recommended protecting an entire landscape, including islands; nearshore habitats, like mangroves and seagrass beds that serve as nursery areas for many species; inshore and offshore reefs; and deep-sea areas. In doing so, they recognized how all of these areas are connected and how effective conservation includes protecting intact ecosystems rather than small pieces. In the 1980s the idea of ecosystem protection was advanced further by making the park a "no-take zone," creating a refuge for marine species by prohibiting any removal of marine life or other resources. Active management of users by The Bahamas National Park, including patrols of the park and installation of moorings for visitors to prevent damage from anchoring in sensitive areas, has further promoted conservation of the park, resulting in the healthy reefs and marine life that we see today.
With extensive planning and careful implementation, the ECLSP is providing vessels with safe and effective mooring systems in a pristine marine environment. We currently have seven active mooring fields spread throughout the park. As well as protecting the seabed, the moorings provide a source of sustainable funding for park operations.
All of our mooring fields allow cruisers to safely secure their vessel within close proximity to a plethora of incredible attractions. Cambridge Cay in the south is known for its superb protection in all wind directions and is close to fantastic snorkeling. Warderick Wells in the central area is famous for allowing cruisers to step directly from their boat onto a pristine sandbar. And visitors to Shroud Cay in the north can spend days exploring miles and miles of creeks and mangroves. Each unique location offers its own special "to do" list.
The ECLSP highlights the ability of a large and well-managed marine park to not just preserve the beauty of an area, but also to provide critical protection to marine life to maintain the delicate balance and health of coral reefs and other marine ecosystems.
We are encouraged here at the ECLSP. We are on the forefront of setting new standards in operating financially sustainable national parks, including eventually across The Bahamas' national system of 32 sites. This is the future for protected areas. https://www.passagemaker.com/destinations/protecting-the-exuma-cays
May 15th, 2020 – Farewell letter – Executive Director BNT – Eric Carey
From: Eric Carey <ecarey@bnt.bs>
Sent: Friday, May 15, 2020 4:46 PM
To: All Staff <AllStaff@bnt.bs>
Cc: Nicola Ierna <ni-oca@oceancrestalliance.org>; Joseph Ierna Jr. <jijr-oca@oceancrestalliance.org>
Subject: Farewell to Joe and Nicola
Colleagues
I wanted to make you aware that today is Captain Joseph Ierna's last day as Park Administrator of the Exuma Cays Land and Sea Park after nearly 2 ½ years. Joe and I have worked together on conservation matters over the years, and had great respect for each other. Joe offered his support to the BNT, as he felt that he had skills and knowledge that would benefit the Exuma Park. Joe had been visiting the Exuma Park for decades and had great appreciation for the park, but also felt it was not reaching its full potential. Joe came in and got immediately to work. I recall that the first thing that he did was a massive cleanup of the island, rallying the support of the RBDF and volunteers to get this done. He them immediately got to work assessing the various systems at the park, eliminating old and redundant processes, and updating others. He also created and put in place many new processes aimed at increasing efficiencies, safety and professionalism at the park.
Joe also immediately began reestablishing key relationships with Private island managers, resort owners and other key ECLSP Stakeholders.
I can say with great confidence that Joe completely transformed the ECLSP, and made it ship shape and much more functional. Coming from the yachting industry in his former life, Joe felt the park needs to operate like a yacht, with everyone doing their part to make sure that all systems are in tip top condition.
Joe also brought many of his and Nicola's personal relationships to the ECLSP and the BNT and used his contacts to advance several key initiatives.
Perhaps of greatest significance, is that Joe created the systems and the business arrangements, to help the Exuma Park move more closer to realizing its full economic potential. In the time Joe spent in the Park, income from user fees, including moorings and anchorage, and tour operator fees, as well as from fundraising events, more than doubled. Last year for the first time ever in its history, the Exuma  Park covered its operating cost, with a significant surplus to support other parks.
Joe has helped to ensure continuity by training and handing over the reins to Peter Graham who is now the Park Operations Manager.
While Joe and his wife Nicola are leaving the Park and headed back to their tranquil long island, please join me in thanking them both for their great service to the BNT.
But they both indicate that they will not be that far away, not in distance nor in function. Joe and Nicola have indicated they intend to fully revive their nonprofit Ocean Crest Alliance (OCA) to continue to further conservation in Long Island and elsewhere. BNT will undoubtedly be working closely with OCA on many conservation initiatives going forward.
Joe – thank you for your great contribution to the Exuma Park and to the BNT. I for one am glad you and Nicola stopped by for a time, and assure you that our organization has been enriched and the park greatly enhanced by your joint work. I will miss the thousands of emails starting at 4am, but will be forever grateful for the many insights you shared.
May God continue to bless you both. Looking forward to having a scotch or rum with you both at Cabbage Point in the not too distant future.
So long.
Eric.